Portland art patron Gilkey dies at age 88
The curator of the Portland Art Museum's prints and drawings was a professor of art and adviser to world leaders
<![if !supportEmptyParas]> <![endif]>
Article by Randy Cragg ( randygragg@news.oregonian.com ) and
D.K. Row ( dkrow@news.oregonian.com )
As printed in THE OREGONIAN, Portland, Oregon USA October 29 2000
<![if !supportEmptyParas]> <![endif]>
<![if !supportEmptyParas]> <![endif]>
<![if !vml]>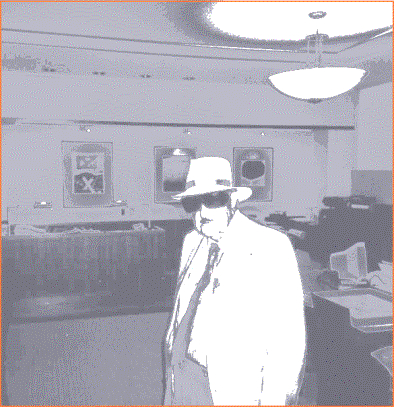 <![endif]>
Gordon Gilkey at his print room library in the Portland Art Museum
in 1998.                                                           Photo by FD Bunsen
One of Oregon's most influential cultural figures, Gordon Gilkey, died Saturday at Providence Portland Medical Center after a long illness. He was 88.
Gilkey's reputation was both historically deep and global. He was an artist, the Portland Art Museum's curator of prints and drawings and the founder of the museum's Vivian and Gordon Gilkey Center for the Graphic Arts:
During World War II, he advised the U.S. Army Air Corps about cultural monuments that should be spared from bombing and spearheaded the earliest repatriation efforts of art stolen by the Nazis. He was a professor of art for more than 50 years, an illustrations adviser to Winston Churchill and a knight in six countries.
But of the many labels he wore, none better describes his broad influence than "educator."
"He was utterly inspiring," said Sally Lawrence, president of the Pacific Northwest College of Art, where Gilkey was "artist in residence" for life. "He taught his students not only about art, but about a generosity of spirit."
Gilkey's chief medium as artist, teacher and international networker was printmaking. He made, traded and collected prints throughout his life, amassing 'a personal archive of nearly ) 4,000 prints-dating from the Renaissance to the present, arrayed from most countries in the world and including works by the likes of Durer, Rembrandt, Goya and Picasso:
"Gordon worked hard to bund an international community of printmakers," said Stephen Gould, president of the Print Council of America. "He was one of the few curators in America to make a sustained effort to reach out to many nations,"
"He knew prints, he knew a number of the artists who made ( them and he never forgot the name of someone he met," said Peter Parshall, curator of Old Master prints at the National Gallery in Washington, D.C.
Gilkey's love of artistic process, unrelenting drive and deftness at bartering made him a legendary figure among 2Oth century printmakers.
During World War II, he traded art supplies for prints with famed artists such as German expressionist Max Beckmann, eventually helping him to emigrate to the United States. Even this year, he pulled his long strings into the U.S. State Department to extend the visa of Chinese artist Wang Gangyi, who is currently an artist in residence at the co1lege, working in Gilkey's personal studio on a stipend he created.
"He often gave the college and artists money out of his own pocket," said local printmaker and teacher Tom Prochaska. He was a real romantic who brought so many into the fold of art. We. all looked up to him."
Born in 1912 in Linn County, Gilkey attended Albany College and then the University of Oregon, where he received the school's first master of fine arts degree in printmaking in 1936.
During WWII, Gilkey served in the U.S.Army Air Corps, becoming chief of the War Department's Special Staff Art Project in Europe. There he spearheaded the drive to repatriate lost artworks confiscated by the Nazis, solidifying connections to artists, collectors and diplomats of numerous countries.
In 1947, Gilkey returned to Oregon, becoming a professor of art and eventually the dean of the College of liberal Arts at Oregon State University. He retired in 1977, but soon after used his ever-growing collection of art to shop for a new job. In 1978, he found it, sealing a deal to donate his encyclopaedic collection to the Portland Art Museum. In return, the museum was to build a study center for the collection while Gilkey received lifetime appointments as museum curator and professor at the college of art (then still associated with the museum).
Working with -and sometimes against the will of three different museum administrations, Gilkey raised most of the $1.2 million to build the print center on his own. Named for him and his wife, the Gordon and Vivian Gilkey Center for the Graphic Arts opened in 1993. Today the center is house to 25,000 prints, roughly 14,000 of which once belonged to Gilkey, according to his assistant, Pamela Morris.
Gordon never met a print he didn't like," said John Buchanan, the museum's director. "His gift to the museum will keep on giving."
The center is the only place in the Northwest where the public can examine works of art dating as far back as the 15th century. Art- viewing amateurs can rub shoulders with the most serious scholars to see everything from Durer's "Nürnberg Chronicles" to an x-ray of Hitler's brain.
He's been the single, largest force for making the museum's collection accessible to the public," said Terry Toedtemeier, the museum's curator of photography. Hundreds of classes have been taught at the museum using actual works of art. Nothing made Gordon happier than to see someone succeed at making something."
No achievement better summed up Gilkey's drive and philosophy than the International Print Exhibition he organized at the museum in 1997. Gilkey solicited 4,800 slides from around the world, even going on Tasmanian radio to rally artists. A global summation of the art of printmaking, the show featured 480 prints from 74 countries as far-flung as Thailand, Namibia, Macedonia and Estonia.
"Without question, it's the most comprehensive print exhibition in the u.s. in 10 or 15 years," said Roberta Waddell, noted print curator of the New York Public Library, when the show opened.
Of the many honors he received, Gilkey most coveted his appointment by French President Jacques Chirac to honorary officer in the French Legion of Honor in recognition of his service to French culture, both promoting artists and supporting Portland's French-American International School, where the middle school is named for him.
Throughout his life, Gilkey made his own prints, and even as late as July, when fighting colon cancer and heart disease, he continued to work in his studio. In November 1999, the Pacific Northwest College of Art mounted a career retrospective of Gilkey' s 60-year career as an artist and a celebration of Gilkey's life.
One of Oregon's first artists to work with a computer, Gilkey always embraced the latest techniques. Lawrence recalled that in one of her final conversations with Gilkey, he was anxious to leave the hospital to experiment with his new iMac.